If you have money to change in Rome such as Dollars, Pounds, Francs,  Dinars, Pesos, Dirhams, Forint, Yen, Rupees, Marka…. read this post to find the best exchange rate in Rome!
Have you already experienced money change in a bank in Rome? Lot of problems and a low exchange rate, right?
During these years at Martini Bed we have helped many times our costumers with money change and here you are some good tips:
1- it's better to reach Rome with few money and get money from ATM, if this option is not convenient for you then read the all article
2- avoid changing money at the airports/station, if you need some money for the taxi take them from an ATM at the airport or change few money in one of the change offices at the airport, they have a really low rate and a really high commission, so it is better to find some euros before departure of your home country.
3- avoid private change or black change money, it's not convenient in our country and there is a high risk of swindle.
4- avoid bank change, it's not so common here, not fast and most of the times not convenient.
The best way to change money we have found during the last 10 years in Rome is with the international company Ria Money Exchange, on their website it is easy to get the exact quote they're buying and selling, you can also communicate in advance the amount of money you need to change, and you'll find them ready to be collected in one of  their offices at Ottaviano metro stop (line A) and at Pantheon (Piazza della Rotonda).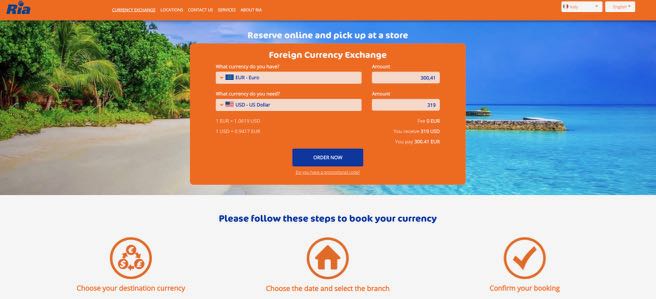 Ria offices are located in safe areas (instead of Termini station) near the Vatican City and the Pantheon, both of them in the heart of Rome. Ria has one of the best exchange rate and has no commission, the rate you see online using their converter is the exact amount you will receive at their office.
There are many money changes around Termini station but some of our costumers have had bad experiences in the area and we are no longer recommending  those places!
Ottaviano metro stop area and Piazza della Rotonda are safe and easy to reach so our tip is to reserve your money online and collect them at Ria Exchange & Money Transfer.
Please be careful going out of money changes and especially on the metro, it's full of pickpockets !!! Please hide money under your clothes with a pouch and keep few money in your pocket.